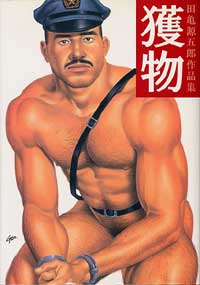 雑誌「G-men」と「さぶ」に掲載されたものと書き下ろしを含む、中編二本と短編五本を収録。
「獲物」 誘拐され地下牢に監禁された警官を襲う凌辱の嵐。そして魔の手は彼の先輩刑事にものびる!
「沈黙の渚」無人島に漂着した日本人船長は、フィリピン人船員たちに女の代用にされ口と肛門を徹底的に犯されまくる!
「谺」山奥に住む世捨て人のような熊男と、そこに迷い込んだ記憶喪失の男。二人の間には不思議な絆が芽生える。しかし……?
「山荘合宿」「山荘合宿・後日譚」 山荘合宿に集まったSM愛好会の面々を待ち受けていた恐るべき罠とは?
「陰の軛」ロマンス・グレーの髭の代議士先生と若く有能な秘書。しかしひとたび裏にまわれば二人の関係は逆転する!
「白峯異聞」 魔界、讃岐国白峯に迷い込んだ平家の落ち武者を待ち受けていたのは、怨霊の復活を祈る残酷な儀式だった!
This is a book of comics and contains two middle length stories and four short stories.
1. A young cop is kidnapped, and is imprisoned to a basement jail. The senior cop who came to help him is arrested too, and they are trained as sex slaves of a pair.
2. A cargo boat is wrecked and is cast ashore to a uninhabited island, Filipino sailors rebel against a captain. The captain has to be always naked and has to eat the sperm of sailors by his mouth and ass.
3. A Bear man living in a mountain hut meets a man of the memory loss, and the Bear keeps him as a dog, and the Dog is fascinated by the Bear, too. However, two man's pasts include the surprising secrets.
4. The M members of SM society are enjoy to be auctioned as a play, but in fact, this auction i s not a play.
5. A relation of mature Congressman and a young capable secretary reverses. A Congressman must be stripped and put on a collar and kneel down under the feet of his secretary.
6. In the Japanese Middle Ages, a Samurai who lost war escapes to a deep mountain, and is captured by a strange old couple. They want to do rebirth their master's soul who died on far-off old days, and sacrifice the Samurai, and begin a terrible ceremony with bathed in blood.

Acts drawn with stories include oral sex, anal fuck, uniforms, light and heavy bondage, gang bang, dog training, made to eat sperm of oneself, fist fuck, anus expansion, piss drinking, enemas, whipping, electric torture, heavy torture, skewering and many more hot sex.
内容見本はココをクリック。
Do you want to see sample pages? Click Here.

Book size ; 148mm x 210mm
280 pages B&W comics with 4 pages color illustrations.
Price ; 1,800 Yen
申し訳ありませんが、この商品は当ウェブサイトでは販売しておりません。また一般書店での販売もありませんので、最寄りの有名ゲイショップでお求めください。また版元のGプロジェクトのウェブサイトからも通信販売でお求めになれます。同様にビッグ・ジムやブックス・ローズのウェブサイトでも通信販売を取り扱っております。

I am sorry, but this product is not sold at this website. But you can order this book from the publisher G-project or the following famous Japanese gay shop.
"Books Rose" (with English page)
Rainbow Shoppers (with English page and accept credit card)