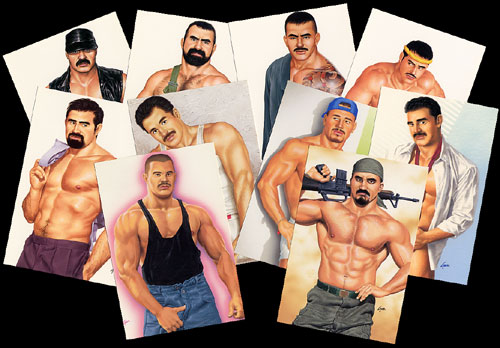 雑誌「ジーメン」の表紙絵の中から厳選した、カラー・ポストカード十枚組。クールな紙パッケージ入り。
Color postcard set of hot hunk's pin-up in cool packege. Selected from the cover illustrations of Japanese Gay Magazine "G-men".
Card size ; 100mm x 150mm
10 color printed post cards
Price ; 1,800 Yen
申し訳ありませんが、この商品は当ウェブサイトでは販売しておりません。また一般書店での販売もありませんので、最寄りの有名ゲイショップでお求めください。また版元のGプロジェクトのウェブサイトでも通信販売をしております。

I am sorry, but this product is not sold at this website. But you can buy this by a mail order in a website of "G-project" that is the original publisher of this product, or "Books Rose" that is a very famous Japanese gay shop. These both sites have English guidance.