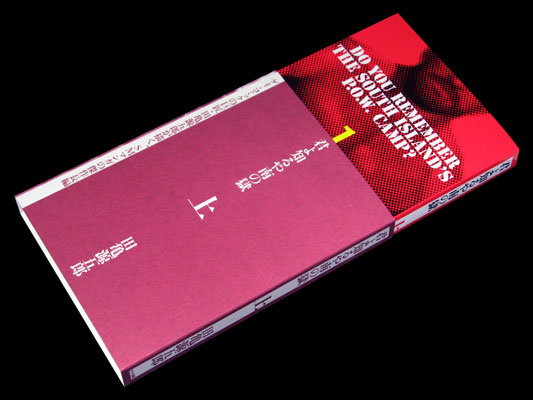 *出版社紹介文*
「戦争が終わった。しかし、『南の島』にはまだ地獄が待っていた。部下のため、そして自らのプライドのために身体を捧げた男の物語は、一人の男の歪みながらも純粋な愛ゆえに悲劇となる…。
 ゲイ・コミックの巨匠にして、世界的なゲイ・エロティック・アーティスト・田亀源五郎が描く、2003年〜2006年に『G-men』誌上に連載された、SMマンガの傑作長編がついに単行本化。上下巻同時発売」
 第二次世界大戦が終結した1945年、G島の捕虜収容所に抑留されていた椿清隆中尉は、マラリアにかかった部下の三上を助けるため、収容所長のハワード少佐に薬を乞う。しかし、その見返りとして要求されたのは、肉体と精神を捧げることだった。
 ハワードから心と身体をサディスティックに弄ばれながらも、椿は部下の命を救う薬のために、その苦痛と屈辱を耐え忍ぶ。
 だがそれも、椿を待ち受ける長い受難の道の、まだほんの序章にしか過ぎなかった。
 欲望と暴行、秘密と軽蔑、矜持と恥辱。米兵と日本人捕虜、それぞれの思惑。それらが絡み合い、次々と連鎖して、止めることのできない歯車のように動き出す……。
This long story, which was published serially in "G-men" magazine from 2003 to 2006, has been collected into two volumes, of which this is the first.
In 1945, after WWII had ended, many Japanese soldiers had been interned at the P.O.W. camp on "G" island.
Lieutenant Tsubaki, a Japanese prisoner-of-war, steals into the infirmary of the U.S. Army, seeking medicine for one of his men, Corporal Mikami, who is suffering from malaria. Lt. Tsubaki is caught and brought before Major Howard, in command of the camp.
Maj. Howard forces Lt. Tsubaki to become his plaything, in exchange for the medicine, and Lt. Tsubaki has no choice but to succumb to his cruel games.
Lt. Tsubaki is increasingly humiliated in diverse ways by Maj. Howard: he is forced to lick boots, is drenched with piss, is made to masturbate before the Major's scornful eyes, and even compelled to suck cock and be fucked, anally.
When, at last, Lt. Tsubaki manages to save the life of Cpl. Mikami, with the quinine he earns in this degrading fashion, he abruptly breaks off his demeaning servitude to Maj. Howard, only to be attacked and raped by Sergeant Scott and two of his fellow soldiers, who had discovered what the Lieutenant had been doing for the Major.
Worse still, a Japanese enlisted man, Private Sonezaki, also interned at the camp, has his enormous respect for Lt. Tsubaki shattered when he, too, discovers his superior officer's shameful secret.
Together with other low-ranking Japanese prisoners, they decide to punish the superior officer for what they perceive as his treacherous weakness, by abusing him, sexually.
Thus, by day, Lt. Tsubaki is fucked and used by his enemies, the American soldiers; and, by night, he ends up serving the lowest-ranking Japanese prisoners-of-war as their whore!
And then, a fresh outbreak of malaria strikes the Japanese prisoners.
Lt. Tsubaki steels himself and, in order to obtain the desperately needed medication, returns to submit to the cruel Maj. Howard.
But this time, he must become the Major's abject slave in all things...
ポット出版・刊
A5判(148mm x 210mm)、312ページ、2,625円
ISBN978-4-7808-0109-5

POT Publishing Co.
148mm x 210mm (A5), 312 pages, 2,625 Yen
ISBN978-4-7808-0109-5
本書は当ウェブサイトでは販売しておりませんが、一般書籍なので最寄りの書店でお買い求めいただけます。店頭にない場合も取り寄せが可能ですし、各種ネット書店でも購入可能です。
・amazon.co.jp
で購入
・ポット出版で購入
I am sorry, but this product is not sold at this website.
But you can order from overseas at a website of "amazon.co.jp" or "Rainbow Shoppers" by Credit Card.
*Buy from amazon.co.jp

*Buy from Rainbow Shoppers
*NOTE; How to find this book in Rainbow Shoppers' site*
First, enter inside to click "ENGLISH (For over 18yrs)". And next, click "COMIC" in "ITEMS" menu on left. After that, click "GENGOROH TAGAME" in "GAY and LESBIAN COMIC" menu.