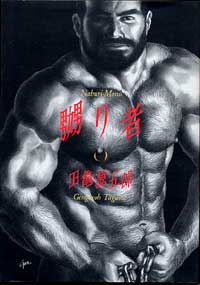 雑誌「さぶ」に連載されたものをまとめた長篇コミックス。
元プロレスラーの平山は、彼の逞しい肉体に魅せられた男たちによって、その運命を狂わされていく。しかし、性奴として調教され、ありとあらゆる凌辱を受け、責め嬲られるほど、平山の魅力はますます増して、逆に彼を捕らえた男たちの運命を狂わせていく。そして男たちの愛と欲望が頂点に達したとき……!
This is a book of comics and contains a one long story.
A hero of this story is the retired professional wrestler. He was working as a bodyguard of a boss of a Yakuza that is Japanese Mafia, but he is soled to an other Yakuza's boss who charmed by his stout body as a SEX SLAVE. So his slave training will start...
Acts drawn with a story include oral sex, anal fuck, light and heavy bondage, nude wrestling, enemas, fist fuck, piercing, whipping, tattooing, piss drinking, hot branding irons, crucifixions and many more hot sex.
内容見本はココをクリック。
Do you want to see sample pages? Click Here.
Book size ; 148mm x 210mm
300 pages B&W comics with 4 pages color illustrations.
Price ; 1,800 Yen
申し訳ありませんが、この商品は当ウェブサイトでは販売しておりません。また一般書店での販売もありませんので、最寄りの有名ゲイショップでお求めいただくか、あるいはビッグ・ジムやブックス・ローズのウェブサイトで通信販売にてお求めください。
I am sorry, but this product is not sold at this website. But you can order this book at the following famous Japanese gay shop.
"Books Rose" (with English page)
Rainbow Shoppers (with English page and accept credit card)
*NOTE; How to find this book in Rainbow Shoppers' site*
First, enter inside to click "ENGLISH (For over 18yrs)". And next, click "COMIC" in "ITEMS" menu on left. After that, click "GENGOROH TAGAME" in "GAY and LESBIAN COMIC" menu.