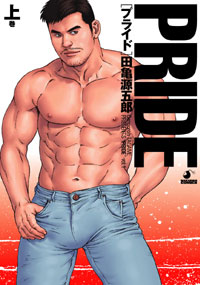 大学生・大橋は、自分がモテ筋のタチであることを鼻にかけ、傲慢で不遜な態度で男遊びを繰り返していた。大橋の通う大学の心理学の教授・柴崎は、そんな大橋の心の奥深くに潜むMとしての素質に気付き、言葉巧みに自分のゲームに引き込んでいく。
 実は柴崎は、過去に何人ものMを調教してきた凄腕のSだった。最初は抵抗していた大橋も、柴崎の巧みなリードによって次第に術中にはまり、やがて本格的なMとして目覚めていく……。
 雑誌「G-men」で1996年〜2000年まで連載された長編マンガの第一巻。SMプレイの調教プロセスを綿密に描きながら、同時にSとMの間のリレーションシップ、それに伴う意識改革、そして愛といった、SMという性の本質にまで迫ろうと試みた意欲作。

 同時収録/短編『TRAP』
 童貞青年・和馬クンを待ち受ける恥辱の罠。はだけた学ラン、引きずり降ろされるブリーフ、公開恥部検査から初フェラ&初アナルまで、汁まみれのノン・ストップ・ハードコア凌辱マンガ。
This is a book of comics and contains the part one of very long story.
Ohashi, who is an university student, prides himself on he is a hot hunk and a top man, and comes on strong at the midnight cruising park. But the other gays are feeling bitter about his cavalier attitude.
One day, Ohashi is taped off by Dr Shibazaki, who is a professort of psychology in his university. But in fact, Shibazaki is also an expert of BDSM, and he is a skilled Master who trained many slaves in past.
Shibazaki finds that Ohashi has the potential to become a good slave. By the Shibazaki's subtle approach, Ohashi is going to fall too deep into the BDSM world.
The rope bondage under the clothing, the control of the ejaculation by the chastity belt, the blow job under the table, the piss shower, the dilation of the anus by the dildoes and the golf balls, the exhbition in the midnight phone booth, the whipping on the St Andrews cross...
By the various techniques of a slave-training maestro, a top turns into a bottom, and a young hunk turns into a slave...

This book includes the short 16 pages comics "Trap".
Young boy Kazuma is tricked by the street gang, ripped his school uniform,and gang-banged at the underground cofeehouse...
内容見本 PRIDE TRAP
Sample Pride Trap
A5版/242ページ/定価1,200円/ISBN : 4-89236-306-5
本編「PRIDE パート1」(212ページ)+同時収録「TRAP」(16ページ)
カラー口絵8ページ
2004年10月28日・発売(予定)
・発行元/(有)ジープロジェクト
・発売元/(株)古川書房

148mm x 210mm (A5) / 242 pages / 1,200 Yen / ISBN : 4-89236-306-5
B&W comics "Pride - part 1" (212pages) + short comic "Trap" (16 pages)
with 8 pages full color illustrations
October 28, 2004
ON SALE
本書は当ウェブサイトでは販売しておりませんが、一般書籍なので最寄りの書店でお買い求めいただけますし、店頭にない場合もお取り寄せが可能です。もちろん、最寄りの有名ゲイショップでもお買い求めいただけます。
amazon.co.jpで購入

I am sorry, but this product is not sold at this website.
But you can order from overseas at "amazon.co.jp" or "Rainbow Shoppers" by Credit Card.
The page of this book of "amazon.co.jp"
The front page of "Rainbow Shoppers"
*NOTE; How to find this book in Rainbow Shoppers' site*
First, enter inside to click "ENGLISH (For over 18yrs)". And next, click "COMIC" in "ITEMS" menu on left. After that, click "GENGOROH TAGAME" in "GAY and LESBIAN COMIC" menu.