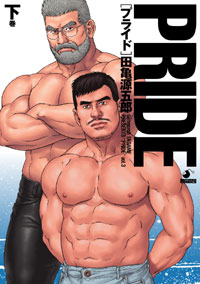 一夏の飼育生活を経て、完全に柴崎教授の奴隷として生まれ変わった大橋は、自ら更なる調教を求めていく。
 そして、公園で土下座して奴隷になると誓ったあの日から一年、教授はその記念としてあるイベントを計画する。
 しかしそのイベントは、二人の運命を思いも寄らぬ方向へと押し流していく……。
 全てのプライドを脱ぎ捨てたとき、そこには何が残るのか。SMにおける主人とは、奴隷とは何か。過激なプレイと深まる絆、その先には何があるのか。
 総計600ページを超える長編、ここに堂々の完結。
 雑誌「G-men」で1996年〜2000年まで連載された長編マンガの第三巻。SMプレイの調教プロセスを綿密に描きながら、同時にSとMの間のリレーションシップ、それに伴う意識改革、そして愛といった、SMという性の本質にまで迫ろうと試みた意欲作。
 同時収録/中編『闇の中の軍鶏』
 戦後間もない東京。戦争で傷を負い、下半身が動かなくなった壮年男・雨宮修一。寝たきりになった夫に代わり、家族を支え生きていくためにパンパンになった妻・時子。義兄に道ならぬ思いを抱いている、時子の弟・浩。頭では理解していても、感情ではどうしても妻の仕事を許せない夫の口から、思わずその本音が洩れたとき、義弟は貶められた姉の、そして汚された恋情の復讐として、身動きできない義兄を進駐軍のアメリカ兵に強姦させる。絡み合う愛憎、押さえきれない感情、消すことのできない肉欲の炎。女装の男娼や金持ちの青年も巻き込んで、物語は怒濤のクライマックスへ。

 同時収録/短編『非國民』
 太平洋戦争中の日本の田舎。両親がアカだという疑いをかけられた青年・雄太は、憲兵に連行されてしまう。しかしそれは、雄太が絶望のどん底へと突き落とされる、そのまだほんの序章にしか過ぎなかった。やがて村の大人たち、青年団、そして友人までもが、次々に非國民・雄太に牙を剥き、閉ざされた村の中で終わらない凌辱の嵐が吹き荒れる。

This is a book of comics and contains the final part of very long story.
The Slave/Master relationship between Ohashi and Shibazaki is getting stronger.
On the one year anniversary day when Ohashi sweared to become a slave of Shibazaki, Master Shibazaki plans a special event for his slave.
Naked Ohashi with only a full head covered leather mask is dragged to a classroom of his university where is full of his schoolmates, and ejaculates with anal torture in front of his friends' eyes.
But this extreme event becomes a gossip, and a Master and his slave decide to look for a new start...
The spanking by a paddle, the needle play on tits, the piercing on a cock, the breeding in a pit, the bondage with leather gears, the branding with a hot iron...
When the finished of the slave trainings, the both of a young slave and his mature master find their real way...

This book includes the one middle length 96 pages comics"Yami-no-Naka-no-Syamo (The Gamefowl in Darkness)" and the another short 24 pages comics "Hikokumin (The Unpatriotic Boy)".

"Yami-no-Naka-no-Syamo"
Just after the end of the WW2, in Tokyo, the hero of this story is a man who was rendered paraplegic by the war wound. His wife became a hooker to make a money to live her husband, her younger blother and herself. And the younger brother is secretly in love with his brother-in-law.
One day, the hero inadvertently rebukes his wife's job with emotion. The younger brother resolves on vengeance.
One night, when the hero who can't move his body by himself stays at home alone, the soldier of US army of occupation intrudes into a house. The hero is raped by this US soldier. It is the revenge of the younger brother. He sold his brother-in-law to the US soldier as a hooker.
After to wreak vengeance, the younger brother leaves a house. The hero apologizes to his wife for his bad language with penitence. The bonds of marriage are revived.
But nex night, when the hero is in home alone, the US soldier comes again to fuck his nice male hooker...

"Hikokumin"
During the WW2 years, a young boy in a village is wrongly accused of Red. He is arrested and tortured by MP, but it was a only beginning of his miserable fate.
Before long, all of the people of his village become his enemies. His neighborhood adults, his senior friends, his classmates, even the principal of his school, everybody rapes his mouth and ass...

内容見本 PRIDE PRIDE 闇の中の軍鶏 非國民
Sample Pride Pride Yami-no-Naka-no-Syamo Hikokumin
A5版/252ページ/定価1,200円/ISBN:4-89236-314-6
本編「PRIDE パート3」(114ページ)
+同時収録「闇の中の軍鶏」(96ページ)&「非國民」(24ページ)
カラー口絵8ページ
2004年12月21日・発売
・発行元/(有)ジープロジェクト
・発売元/(株)古川書房

148mm x 210mm (A5) / 252 pages / 1,200 Yen / ISBN:4-89236-314-6
B&W comics "Pride - part 3" (114 pages)
+ middle length comics "Yami-no-Naka-no-Syamo" (96 pages)
& short comic "Hikokumin" (24 pages)
with 8 pages full color illustrations
December 21, 2004
ON SALE

本書は当ウェブサイトでは販売しておりませんが、一般書籍なので最寄りの書店でお買い求めいただけますし、店頭にない場合もお取り寄せが可能です。もちろん、最寄りの有名ゲイショップでもお買い求めいただけます。
amazon.co.jpで購入

I am sorry, but this product is not sold at this website.
But you can order from overseas at "amazon.co.jp" or "Rainbow Shoppers" by Credit Card.
The page of this book of "amazon.co.jp"
The front page of "Rainbow Shoppers"
*NOTE; How to find this book in Rainbow Shoppers' site*
First, enter inside to click "ENGLISH (For over 18yrs)". And next, click "COMIC" in "ITEMS" menu on left. After that, click "GENGOROH TAGAME" in "GAY and LESBIAN COMIC" menu.